What are good quality women sweatshirts made out of?
February 21 2023 – Denitsa Damyanova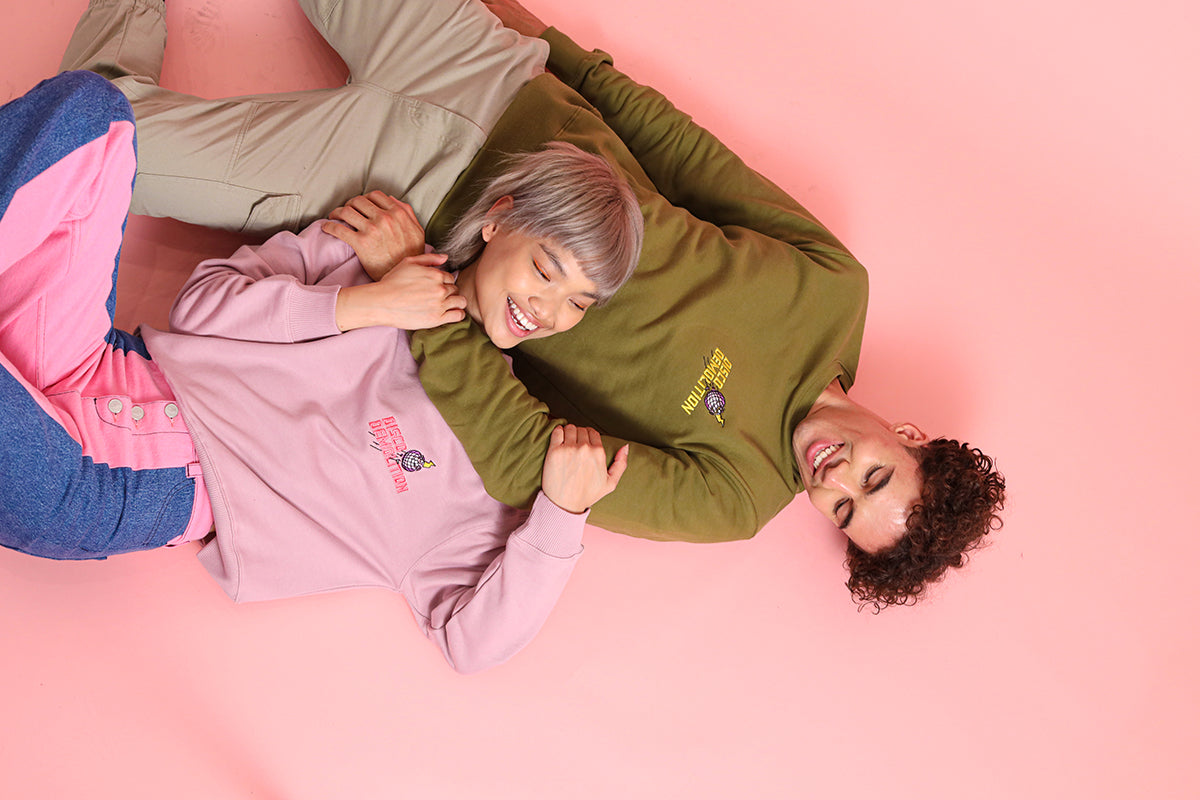 What are good quality women sweatshirts made out of?
It feels so good to just snuggle up into something warm and cosy. When your partner is not around and the blanket is too far away, a comfy sweatshirt is your best bet. However, there are so many different sweatshirts out there – from cropped to oversized and everything in between, made out of cotton or polyester. In every colour imaginable. Which one is the best kind? The one that is going to stay by your side through thick and thin. What are good quality women sweatshirts made out of?
We're going to look at what good quality means, how to spot it and what fabrics are the best sweatshirts made out of. Let's dive in.
How can you tell if a sweatshirt is good quality?
We're going to take a step back to quickly explain what 'good quality' means. Here are some main points to always keep in mind:
Nice to the touch. Whatever item of clothing you are getting, you better love how it feels when it touches your skin. A good quality fabric is made to be loved. And it will feel so good. Regardless of whether it is smooth like silk or soft like a cloud – you will love how it feels on your body.
A good quality garment fulfils its purpose. If you are getting a winter jacket – it needs to keep you warm. Likewise, a summer slip dress needs to keep you feeling fresh in the Dog Days of Summer.
Long lasting. Probably the most important aspect of high quality is longevity – how long is this sweatshirt hanging around for? For example, a high-quality women cotton sweatshirt should last at least 5 years with regular wear.
So how can you tell if a sweatshirt is good quality? There are two things you need to do.
Firstly, know your fabrics. We're not talking technical knowledge. There are some rules of thumb such as natural fabrics being better than synthetic ones. A cotton sweatshirt will keep you warm without getting you sweaty. This is because cotton is breathable. However, polyester is not and will get you sweaty and stinky in no time.
Secondly, trust your senses. Touch the fabric. Is it flimsy or rough? Does it feel a bit too artificial? Then it's probably not great quality. On the other hand, if it feels soft and natural, then you're on the right track. Again, a good quality fabric will make you want to touch it again and again. A good quality sweatshirt will make you want to wear it all the time.
Is cotton good for sweatshirts?
Totally! We love women's cotton sweatshirts and firmly believe cotton is the best fibre for the job. This is because of its natural properties. Cotton is soft, which plays a big role in how comfy your sweatshirt is. Next to this, cotton is breathable, meaning you are a lot less likely to sweat in a cotton sweatshirt than in a polyester one.
Since cotton is a natural fabric, there are undeniable sustainability benefits to it as well. It doesn't shed microplastics in the wash and it doesn't pollute the environment for hundreds of years if it ends up in a landfill. However, if your concern is sustainability, we recommend you look for an organic cotton sweatshirt. A step further in the right direction.
What are the softest sweatshirts made of? 
Ever heard of the expression 'soft as cotton'? Well, the softest sweatshirts are made from cotton. There is a trick though. For extra softness look for sweatshirts with brushed cotton on the inside. This means that the cotton has undergone a special finishing to make it extra soft and warm. You'll thank us later.
What is the most comfortable women's sweatshirt? 
According to us, the most comfortable women's sweatshirt:
is made from organic cotton. Organic and conventional cotton feel and look the same. However, organic is better for the environment and therefore makes you feel better when wearing it.
is made with brushed cotton on the inside. Because who doesn't want to feel embraced by a soft cloud?
has a slightly loose fit. This is for extra warmth and cosiness
comes in your favourite colour
makes you smile
Which brand has the best quality sweatshirts?
Sweatshirts are so versatile that it isn't a surprise that there are so many of them out there. Or that so many brands have them in their range. For example, H&M has 276 different women's sweatshirts on their website now. Quite the number! Ever wonder where does H&M get their sweatshirts? Most of them are made in China or Bangladesh. Another interesting fact is that 268 of these sweatshirt styles are made with polyester. We already know, that's not an indicator for the best quality.
So then, who has the best quality sweatshirts? While this is a hard question to answer, we can tell you that blonde gone rogue has an awesome range of high-quality sweatshirts for women and men. They are all made from GOTS certified organic cotton and soft brushed cotton on the inside. Just so you don't get bored – they come in a beautiful range of colours with the funkiest embroideries. You can have a look
here
!
Hope you liked this article and be sure to leave your thoughts in the comments below!